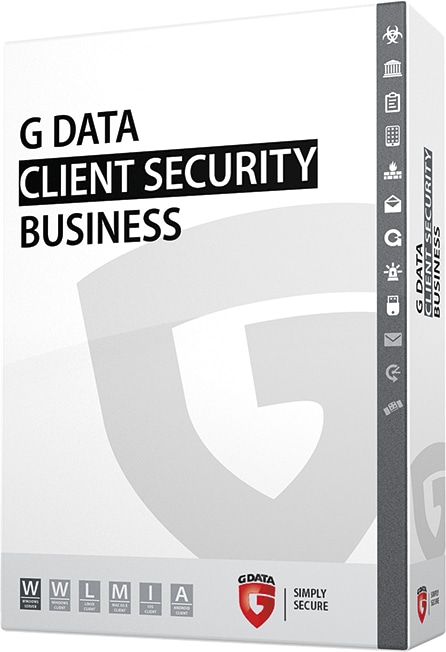 G DATA Client Security offers the best possible end-to-end protection for company data of any type against threats from viruses, trojans, spam, and hackers. It also provides a secure barrier against virus epidemics, sabotage, and theft. The new AntiSpam function in the Exchange plug-in, support for additional Linux distributions and protection against malicious USB devices by the integrated USB Keyboard Guard now offer even more security for your company.
Award-winning security suite
DoubleScan technology ensures best virus detection rates
Self-learning fingerprinting and whitelisting increase pc performance
State-of-the-art methods for detecting unknown viruses (Behavior Blocking, heuristics, CloudSecurity)
Optimal Protection
Gain maximum security for your data: combine reliable antivirus protection with a strong firewall, and rely on G DATA Client Security for corporate networks of any size. With its perfect blend of cost-effectiveness and security, this comprehensive IT security solution protects all your Windows, Mac and Linux clients. Thanks to integrated Mobile Device Management (MDM), you can also easily manage your Android and iOS devices.
Antivirus with CloseGap
BankGuard
Behavior Blocker
Antispam and antivirus protection
Firewall
Firewall
The integrated firewall in G DATA Client Security works inconspicuously in the background, and is the perfect extension to antivirus protection. Your entire network enjoys optimal protection against hacker attacks, enabling you to enforce your corporate and communications policies.
Central management
Works inconspicuously in the background
Onsite/offsite rule set
Easy-to-understand reporting
Simple Administration
The G DATA Administrator is part of every G DATA security solution.  Using an intuitive design, it gives IT administrators a smart, quick way to deploy the software to clients and to configure and monitor the entire network. This makes it easy to manage and apply group policies without having to deal with each client individually.
Report Manager
Simplified installation overview
Remote management
Active Directory connection
Mobile Device Management
Software and hardware inventory
Simply Deployment
No matter the number of locations that you have, the G DATA Client can be easily deployed through the G DATA Administrator.  It doesn't matter how complex your network might be, every G DATA security solution can be deployed to clients across the network, and thanks to the Active Directory connection, you can apply existing rules and policies with ease, even when your network is highly heterogeneous.You can also manage multiple locations easily using the built in Subnet Server capability, which allows local systems to update from a local server, while still being centrally managed from the main location's Management Server.
Mobile Device Management
G DATA Security Solutions equip you for the challenges of BYOD (Bring Your Own Device) scenarios. With fully integrated Mobile Device Management (MDM), IT administrators can centrally manage Android and iOS devices.  Depending on the mobile operating system, you can equip devices with mobile antivirus and antitheft safeguards, blacklist undesirable apps – and much more.
System Requirements
G DATA Client (32/64 Bit)

Windows 8.1, 8, 7, Vista XP for 32-bit only
Server 2003, 2008/R2 or 2012/R2
At least 1 GB RAM (4 GB Recommended)

G DATA ManagementServer (32/64Bit)

Windows 8.1, 8, 7, Vista XP for 32-bit only
Server 2003, 2008/R2 or 2012/R2
At least 1 GB RAM (4 GB Recommended)
An Internet connection is required for signature & software updates
Mail Security + Client Backup
Additional security for your vital business data and e-mail: protect your incoming and outgoing mail against malware and phishing with the optional MailSecurity module, either as a module in your Microsoft Exchange Server or it can be setup as a gateway that delivers mail to your mail servers after it is scanned. The ClientBackup performs regular, automated backups of all the PCs in your network to prevent data loss.   These modules are sold as one add-on.
Patch Management
The optional PatchManagement module makes it easy to keep the software installed on your clients up to date at all times. It's the smart, efficient way to prevent attacks in Windows and third-party software.