GravityZone Elite Security
Unfollow the traditional. To effectively protect you against highly sophisticated cyber attacks that evade conventional endpoint security tools, you need a layered defense approach with multi-stage
signature-less technologies including advanced machine learning, behavioral analysis, anti-exploit and integrated sandbox.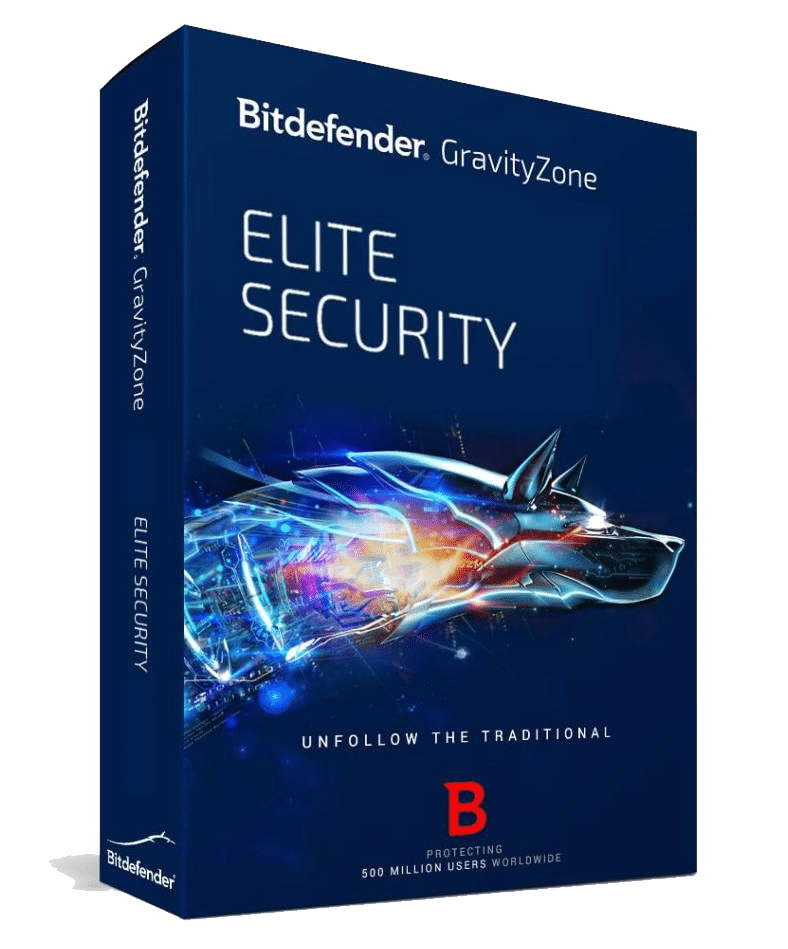 GravityZone Advanced Business Security is an all-in-one security solution that includes protection and unified security management for workstations, servers, email, and mobile devices. Unlike traditional solutions that patch together pre-virtualization and pre-cloud Windows applications, Bitdefender GravityZone combines all the security services an organization needs into a single delivery platform and provides the best combination of protection and performance.
Business antivirus and antimalware consistently ranked first in independent tests.
Easy to install and monitor security remotely from a single cloud console.
Cost effective: includes server and desktop protection, intrusion detection and web filtering capabilities.
GravityZone – Unique Technologies
Global Protective Network
Bitdefender's Global Protective Network (GPN) performs 7 Billion queries per day, and uses reflective models and advanced machine learning algorithms to extract malware patterns, ensuring real-time protection against any threat.
Bitdefender Endpoint Security Tools
Bitdefender Endpoint Security Tools is a single package that protects physical and virtual machines. It detects the type of system it is installed on and adjusts to deliver optimized performance for that particular environment.
Bitdefender Photon™
Bitdefender Photon™ optimizes the scanning process by examining unknown, suspicious, or modified files. It adapts to each computer as it scans files, learning individual usage patterns and determining which applications to scan or not.
What makes GravityZone Advanced Business Security the best?
Features
What this means for your business
#1 ranked antivirus, antimalware and antispam technologies

Bitdefender uses constant innovation to catch advanced or 0-day threats that other solutions miss, while having the smallest possible impact on system performance. The only solution to have won all VBSpam awards to date, Bitdefender consistently scores top spam detection rates.

Increase productivity by eliminating malware incidents and spam

Bitdefender security gives your business the advantage against malware attacks. Moreover, the proven efficiency of the Bitdefender antispam improves employee productivity.

Security for workstations, servers and mobile devices, plus email protection and antispam from the same console

You can protect workstations, servers, or mobile devices (available with the on-premise console). The number of servers should not exceed 35% of the total number of devices in the license. When purchasing Bitdefender GravityZone Advanced Business Security you also receive protection for a number of Exchange mailboxes equal to 150% of the total number of devices within your license.

Comprehensive security and efficient management

Bitdefender GravityZone Advanced Business Security provides comprehensive protection and management. This helps modern IT environments address all attack vectors while eliminating the overhead of managing multiple solutions.

Firewall, Intrusion Detection, Device Control, Web Filtering, Search Advisor, Web and Application Control included

The firewall, IDS, and web filtering capabilities are essential to protect against Internet-based threats such as hacking and phishing. Bitdefender GravityZone Advanced Business Security gives you the power to remotely restrict or block employee access to certain applications or web pages.

Get full protection against all types of attacks, and improve productivity

Unlike other solutions, which lack web protection and device control or charge a premium for such capabilities, Bitdefender GravityZone Advanced Business Security includes these features at no extra cost. Moreover, with User and Web Control capabilities admins are able to restrict access to websites or applications that harm productivity.

Streamlined deployment and security management

Organizations can use the cloud-hosted management console, or deploy the console locally. Based on hardened Linux machines wrapped in virtual appliances, the Bitdefender on-premise console is configured and ready to use under 30 minutes. Bitdefender automatically detects and removes the previous AV solution upon install.

Save time with more efficient management

The bottom-up GravityZone design and integration with Active Directory, Citrix XenServer, or VMware vCenter (available on-premise) allow you to save time and streamline security processes. Rolling out protection to a large number of endpoints is also simplified with auto-detection, uninstall of legacy solutions, and mass remote deployment mechanisms.

Smart Centralized Scanning – optimized performance

Bitdefender allows you to run up to 30% more virtual machines compared to traditional solutions by optimizing and centralizing scan tasks. Unlike solutions that rely on the VMware vShield driver, Bitdefender covers any virtual environment and provides load balancing capabilities, as well as memory and process scanning.

Save money by minimizing security resource consumption

The scanning offload and the advanced caching mechanisms minimize resource consumption for virtual or physical machines. This allows you to save money by running more machines on the same infrastructure.

24/7 Support is included Free

Support is available in English 24/7 through phone, email, or chat.

Professional assistance whenever you need it

Our highly trained engineers are always ready to provide technical assistance and answer your questions.
Physical and Virtual Endpoint Security Features
| | |
| --- | --- |
| Antivirus and antimalware Bitdefender detects malware using signatures, heuristics, continuous process monitoring, and a global threat intelligence network. | Network discovery and mass remote install option Once installed on one computer, Bitdefender automatically detects unprotected systems, and you can remotely deploy protection to all of them. |
| Two-way firewall with Intrusion Detection/Prevention The fully-featured two-way personal firewall with Intrusion Detection is essential in blocking intrusion and hijack attempts. | Role-based user model Internal accounts with different access privileges can be created in the management console. |
| Search Advisor and Web filtering Bitdefender marks potentially harmful websites in the search results and blocks known malicious pages. | Plug-and-play console deployment (on-premise) With the pre-configured virtual appliance installation, the console is up and running in under 30 minutes, not hours or days as with other solutions. |
| Data protection Prevent the loss of confidential data by setting filters that will block the transmission of sensitive information. | Instantly available web console (cloud) With Bitdefender hosting the management infrastructure, the web console is available right after signup. |
| User web and application control Restrict or block employee access to applications or web pages. | Device Control and USB scanning Minimize risks of infections and data loss with automatic USB scanning and device control. |
| Power user and restricted user modes You can choose to allow or deny users the ability to modify security settings for their system. | Uninstalls competitive solutions Competitive solutions are automatically detected and removed during the Bitdefender installation process. |
| Remote and local quarantine management The quarantine is stored locally but can be managed centrally from the control console. | Endpoint Security Relay Product and signature updates can be distributed more efficiently inside the network through a system that works as a relay. |
| Security policies and nested computer groups Assign security policies to companies or groups of computers. | Audit Logs Actions performed in the management console can be tracked in the audit logs. |
| Multilanguage support The solution is available in English, German, Spanish, French and Romanian. | Email Notifications Set up email notifications to be triggered automatically when certain events occur. |
| Real-time control of remote users (cloud console) With the Bitdefender-hosted management console you can control and monitor remote users in real time. | Monitoring Dashboard and reports Centrally monitor the security posture of the organization using on-demand or scheduled reports. |
| Reduce infrastructure costs with Bitdefender Smart Scanning Bitdefender Smart Scanning minimizes resource consumption by centralizing scan tasks to dedicated machines. The local installation package, Bitdefender Endpoint Security Tools, can adjust its functionality and switch between local, cloud, and centralized scanning depending on the policy settings and the type of machine it is installed on. | Integration with VMware, Citrix and Microsoft Active Directory™ Integration with VMware vCenter, Citrix XenServer, and Microsoft Active Directory simplifies deployment and security management for virtual and for physical machines. |
| Full protection for virtualized systems While other solutions are limited to doing file scanning in virtual environments, Bitdefender offers complete protection including process, memory and registry scanning. | Multi-Platform Coverage GravityZone provides optimized protection on all the known hypervisors – VMware vShield, VMware ESXi, Citrix Xen, Microsoft Hyper-V, Red Hat KVM, Oracle VM and more. |
Email Security Features
| | |
| --- | --- |
| Top antispam detection rates Bitdefender consistently scores top spam detection rates with a minimum number of false positives in Virus Bulletin VBSpam tests. | Protection against email-borne viruses, malware, or phishing attempts The Real-Time Data Analysis filter employs Global Protective Network security cloud to detect spam messages and to provide rapid protection against 0-day and advanced threats. |
| Behavioral analysis and zero-day protection Using powerful heuristic antispam filters, Bitdefender detects unknown spam messages. | Comprehensive email filtering In addition to antimalware and antispam, the solution also includes attachment and content filtering for enhanced protection and control. |
| Smart Scanning Antimalware scanning can be offloaded to centralized security servers from the protected mail servers. | On-demand scanning The product filters incoming and outgoing traffic but can also be used to run an on-demand antimalware scan of the Exchange Information Store. |
| Fast deployment The product installs is simple to set up and can be installed in minutes.. | End-to-end IT monitoring Centralized management and reporting for endpoint, email, or mobile protection streamlines IT processes. |
Mobile Devices Security Features
| | |
| --- | --- |
| Control BYODSupport BYOD initiatives with centralized security policy management of iPhones, iPads and Android devices. | Unified security to minimize administrative overheadManage security and monitor all devices remotely in the same console used for endpoint or email security. |
| Anti-theft (Locate, Lock, Unlock, Wipe)Finds lost devices by showing them on map Prevents use of lost devices by remote locking Prevents data leakage by wiping data remotely Locates and locks / wipes the device remotelyPrevent. | Device compliance monitoring with automated noncompliance actionsPrevents non-compliant devices from accessing corporate resources Enables administrators to easily pinpoint non-compliant devices. |
| Android Storage EncryptionActivates Android OS storage encryption, keeping sensitive data safe Detection of root. | #1 ranked antimalware technologiesDetect Android malware and prevent mobile users from distributing infected files to other users inside or outside the organization. |
| Enforces simple but effective screen lock and authenticationApply consistent security policies on all user devices and prevent unwanted access to unattended phones or tablets. | Enforces simple but effective screen lock and authenticationBitdefender makes it simple to apply consistent security policies on all user devices and prevent unwanted access to unattended phones or tablets. |
| Detection of rooted/jailbroken devicesAllows enterprise-wide policies to be applied on rooted/ jailbroken devices. | Android web security & controlBlocks web pages that contain malware, phishing or fraudulent content. Allows blocking or restricting access to specific pages. |
System Requirements
Supported Operating Systems:
 Windows 10, Windows 8, 8.1, Windows 7, Windows Vista (SP1), Windows XP (SP3)
 Mac OS X Lion (10.7.x), Mac OS X Mountain Lion (10.8.x), Mac OS X Mavericks (10.9.x), Mac OS X Yosemite (10.10.x)
 Linux: Red Hat Ent. 6.2, 6.1, 5.7, 5.6; CentOS 6.2, 6.1, 5.7, 5.6; Ubuntu 11.04, 10.04; SUSE Ent. Server 11; OpenSUSE 12, 11; Fedora 16, 15
 Windows Embedded 8 Standard, Windows Embedded 8.1 Industry, Windows Embedded Standard 7, Windows Embedded POSReady 7, Windows Embedded Enterprise 7, Windows Embedded POSReady 2009, Windows Embedded Standard 2009, Windows XP Embedded with Service Pack 2, Windows XP Tablet PC Edition
 Windows Server 2012, Windows Server 2012 R2, Windows Small Business Server (SBS) 2011, Windows Small Business Server (SBS) 2008, Windows Server 2008 R2, Windows Server 2008, Windows Small Business Server (SBS) 2003, Windows Server 2003 R2, Windows Server 2003 with Service Pack 1, Windows Home Server
Hardware requirements:
 Minimum : 2.4 GHz single-core CPU Recommended: 1.86 GHz or faster Intel Xeon multi-core CPU
 Memory: Minimum free RAM: 512 MB Recommended free RAM: 1 GB HDD space: 1.5 GB of free hard-disk space
GravityZone Control Center (on-premise console)
GravityZone Control Center is delivered as a virtual appliance and is available in the following formats:
 OVA (compatible with VMware vSphere, View)
 XVA (compatible with Citrix XenServer, XenDesktop, VDI-in-a-Box)
 VHD (compatible with Microsoft Hyper-V)
Support for other formats and virtualization platforms may be provided on request.
Request Your Free 30-Day Trial